6 Questions to Ask Roofing Contractors in Cincinnati, OH
Jul 29, 2020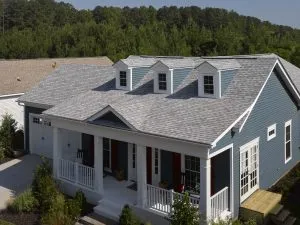 Having a new roof installed is one of the biggest home improvement projects you can tackle. It's also one of the most important. Because of the gravity of the project, you don't want to entrust your roof replacement to just anyone—you want to partner with the most skilled and experienced roofing contractor you can find. But finding that contractor can feel like a major project in and of itself. After all, there are many roofing companies serving the Cincinnati, Ohio, area, and all of them claim to be the best. Thankfully, there are several questions you can ask roofing contractors to help determine whether they are a reliable choice. Before you make a decision, ask these six questions:
1. What is your full company name and where is your office located?
While this may seem like a simple question, it's an important one to ask, as it will allow you to find out whether the company is registered. A roofing company without a physical location is a red flag and can be cause for concern.
2. Are you licensed and insured?
If you partner with an unlicensed or uninsured roofing contractor, you may be liable in the event of an on-the-job accident. That's why it's crucial to ensure that the company you choose is licensed and carries insurance. Any reliable roofing contractor will be happy to provide proof of both—if they're not, consider it a sign to move on.
3. What products do you install and is your crew certified to install them?
You'll want to find out what manufacturers your roofing contractor sources products from so that you can learn about their materials and ratings. You should also make sure your contractor is certified to install those products. Roofing manufacturers certify companies that have undergone product-specific training, and trustworthy contractors will have taken the time to ensure that their team is properly certified.
4. Do you offer a warranty?
Any reputable roofing contractor will stand behind its work with a labor warranty, which backs workmanship, in addition to the manufacturer's warranty, which is for the product. Make sure the contractor you choose offers both and ask about the length of each, as well as what your warranties will cover.
5. Will you perform an inspection after my roof is installed?
There are a number of issues that can arise during installation and in the months that follow it. Because of this, it's important to make sure your contractor will inspect your roof immediately after installation and again once the roof has been on your home for a year. Not only does the promise of a follow-up inspection ensure that any concerns will be addressed, but it can also give you peace of mind knowing your contractor is an established company that won't disappear as soon as the work is done.
6. Do you have any references from past customers?
This is an important question to ask as it will allow you to see what kind of experience previous customers have had with the company. In addition to reading online reviews, you may want to ask if you can visit a home where the contractor has previously installed a roof so that you can view their work in person and speak with a past customer directly.
Advantage Roofing: A Contractor You Can Rely On
Choosing a roofing contractor may be an intensive process, but when your project goes off without a hitch, you'll be happy you took the time to get it right. If you're ready to begin interviewing contractors for your home's roof replacement, contact Advantage Roofing. We are a longstanding, family-run company that has been serving homeowners in the Cincinnati, OH, area since our founding in 2001. We would be happy to schedule a free consultation so that you can meet with a member of our team and get all of your questions answered.