Roof Installation Services for Homeowners in Cincinnati, OH & All Surrounding Areas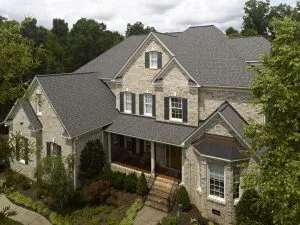 For an expert roof installation in the Cincinnati, Ohio, area, turn to the seasoned professionals at Advantage Roofing. Since 2001, we have been helping homeowners better protect their houses and improve their curb appeal by installing premium roofs. Our roof installations are always completed by skilled professionals who are highly experienced and have installed hundreds of roofs. Additionally, no roof installation is ever considered complete without our final inspection, during which we make certain every single detail has been taken care of, including cleanup. Our dedication to professional installations and customer satisfaction is one of the reasons we have maintained an A+ rating with the Better Business Bureau for many years.
When you turn to Advantage Roofing for a roof installation in the Cincinnati, OH, area, you can expect your home to be upgraded with a roof that is designed to last. We install CertainTeed roofing for our customers because we believe in providing the very best products on the market. One of the more popular lines we install from CertainTeed is their Landmark® Pro roofs, which are:
Manufactured with Max Def color technology, creating richer and more vibrant color options
Resistant to winds up to 110 mph, making them strong enough to stand up against storms
Engineered to keep unsightly algae at bay, ensuring they are easier to maintain than other roofs
Installed with the innovative NailTrak® feature for more efficient installations
CertainTeed also offers a wide variety of asphalt roofing options, which means you'll be able to select the shingles and customization features that best suit your preferences and budget.
Peace of Mind Comes Standard With Every Roof Installation We Complete
When partnering with a roofing company, it's important to choose highly rated products like those manufactured by CertainTeed. But it's equally important to be sure your roofing contractor is thoroughly familiar with the manufacturer's products and installation specifications. At Advantage Roofing, we've gone the extra mile to put your mind at ease about all facets of your upcoming roof installation. We've demonstrated our extensive knowledge and expertise to the manufacturer and fulfilled all the requirements to earn the coveted ShingleMaster™ credential. This means you can count on our team to guide you toward the best products to meet your needs, tastes, and budget, then follow up with an expert installation so that your roof performs exactly as advertised year after year.
Moreover, when you trust Advantage Roofing to handle your roof installation project, you can look forward to having an experienced project manager assigned to help you prepare and to oversee the entire process. This helps ensure that all of your questions and concerns about your roof installation are promptly addressed. We also conduct inspections at each step of the installation process, and we'll provide a thorough cleanup when your roof replacement project is complete.
What's more, because we stand behind our products and services, we are happy to provide outstanding warranties that cover both the product and labor for up to 50 years. For all of these reasons, we have earned the reputation of being the area's most reliable, trusted, and recommended roofing company.
If you would like to learn more about the roof installation services we offer to homeowners in the Cincinnati, OH, area, contact Advantage Roofing today.