Roofing Mount Washington, OH
Mar 07, 2022
Premium Roofing for Mount Washington, OH Homeowners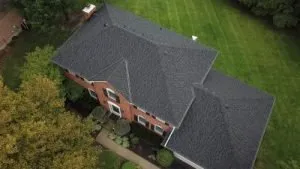 Have the signs of aging and deterioration on you roof become increasingly noticeable? If so, the worst decision you can make is to wait any longer to have it replaced. If your roof isn't up to par, you could soon find yourself facing costly damages from water, snow, or pests. While the thought of having your roof replaced may seem daunting, the professionals at Advantage Roofing are here to make the experience stress free. We're a world-class roofing company that offers high-quality shingle roofing that is proven to withstand the test of time.
We Provide Top-Notch Products and Unparalleled Service
If you're considering roof replacement, you should know that not all shingles are created equal. There's a wide spectrum of shingles that may look similar but offer drastically different levels of protection for your home. The last thing any homeowner wants is to think they're saving money on cheaper shingle roofing only to have the products wear down within a few years. What your roof needs is top-of-the-line shingles, like the CertainTeed Landmark Pro shingles we install on our asphalt shingle roofs. These shingles feature a sturdy fiberglass base, which gives them greater strength and durability than competing products. With roofing from Advantage Roofing, you can count on protection for your home for a lifetime!
Trusted, Reliable, Recommended
At Advantage Roofing, your satisfaction always comes first. Our shingle roofing is sure to satisfy, especially since we follow each installation with a highly detailed 19-point inspection checklist. To increase your confidence, we back our projects with a "Better Than Lifetime" warranty so you know that your investment is protected. So, don't wait another minute to replace your Mount Washington, OH, roof. Give us a call today, we can't wait to serve you!